The smartphone world is dominated by talk of Android and iOS devices, but Blackberry has been making significant headway in becoming relevant to the consumer market again. This year saw the release of the Blackberry 10 OS, the Blackberry Z10, and the Blackberry Q10. While Blackberry has focused on the business market in the past, it is now aiming for typical consumers. With a consumer smartphone market that's not even expected to reach five percent by 2016, according to PCMag, it's still managing to garner some excitement and a potential niche market. Here are a few of the features that make this phone an interesting choice in a saturated market.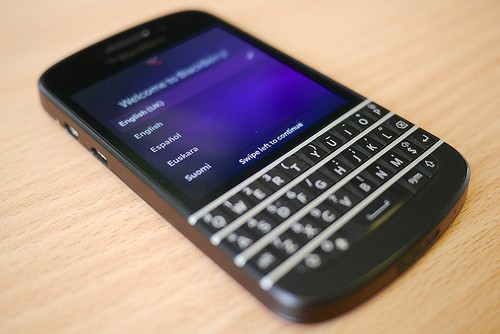 Blackberry Q10 image by Janitors via Flickr.
1. QWERTY is Back
Touchscreen usage almost eliminated the subsection of high-end smartphones that use physical keyboards, much to the dismay of many users who would like a more powerful phone, but don't want to exclusively use touchscreens. The Q10 sticks with the Blackberry staple of a QWERTY keyboard, but adds on the touchscreen as well. It's the best of both worlds while still remaining true to the Blackberry smartphones of old.
2. Blackberry 10 OS
This operating system provides a number of exciting features for both consumer and business users. The Hub provides a centralized location for all of your social media and email notifications, Blackberry Balance creates a secure work space separated from your personal phone usage and Blackberry World functions the same way, if not better, as Google Play and iTunes do for Android and iOS devices.
3. The Display
While it's smaller than many smartphones at 3.1 inches, it has a 320 dpi screen at that size. Some reviewers indicate that this screen looks even better than the famous iPhone Retina display, which was previously considered the top of the pack. The display is also a traditional touchscreen, so if you prefer to use touchscreen controls over the keyboard you have that option.
4. Performance
According to Fool.com, the Q10 is a big step up from previous Blackberry devices. While it might not have the app availability that smartphones on other systems have, you don't need a BlackBerry 10Q to come loaded down with a lot of apps that you're not going to end up using anyway. The major players in the mobile app market have been bringing over important applications like Instagram and Skype, so you won't be missing much.
5. Blackberry Enterprise Server
If you're a business user with the Q10, you don't have to worry about leaving your phone at home with the security features enabled for the device. This feature allows the administrators at your workplace to provide you with a sandbox environment that gives you a virtual working environment that isn't affected by your personal files or operating system. Nothing done in this segmentation can affect your system files or other data, and vice versa. It's a good way to get a standardized working environment without sacrificing the personal device that you enjoy, or having to use two separate devices for business and home.