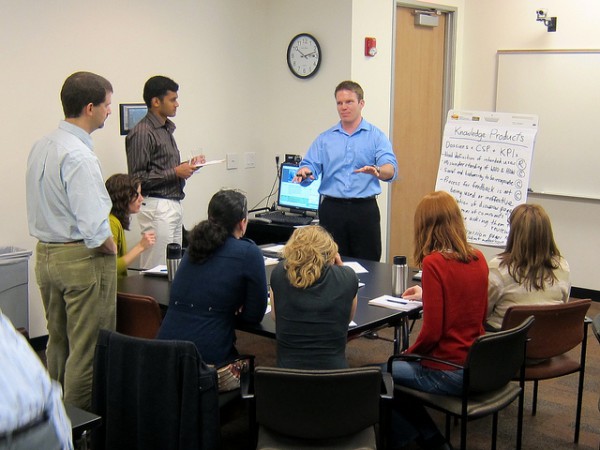 Having a bad manager is one of the main reasons people leave their jobs. However, anyone could become a good manager with some effort. In ancient Greece, only the wise were the leaders; people who weren't seduced with power and domination but hard work and sacrifice. Today, the world's most renowned companies employ the best managers. Whether you're an employee in a multi-million corporation or you want to run your own business, get familiar with manager's routines in order to get your first leadership insights.
Hiring the best in their profession
People with high education and work experience are necessary, but they should also be calm and compassionate if you want good communication and work atmosphere in your team. There are certain rules which you have to follow while hiring people; including job interviews, IQ tests, psychology tests etc. Leave the first impression behind, and try to get to know your candidates more closely. Selection of the perfect candidate is never easy and you don't have a lot of time, so you have to trust both instinct and experience. If you select a wrong person you will need to do it all over again and that's a waste of your time and money.
Motivation
Everyone has a drive for something better within them, and it's called motivation. People will always do something because they want to do it. Motives are different; someone wants to be paid better while someone just wants to do their job without being pressured and rushed. Watch your employees closely because you will have to use a different approach with each new case. However, don't forget to treat everyone equally and mind your manners.
How to become a team leader
As the word implies, a team leader is someone who is capable of managing a group of people. So, first you need to create a team. This is the hardest thing to do; sometimes, even if people are well motivated, there is still that "spark" missing. This would connect them all and make them work as a team. A good team of people will achieve the goal of the company much easier than a group of people who don't get along. The best way to connect people into a group is by giving them an example. People expect you to show them and not just tell them what to do. Only by helping them solve their problems you'll develop a good working atmosphere, thus setting you aside as a true leader and giving you a certain level of authority which is necessary for a successful business.
Money management
All companies have one thing in common – their goal is to earn as much money as they can. You need to learn about the market in order to become a top expert in your business area. Don't be afraid to investigate. Earning money is not rocket science; just make sure that while you're learning you also guide your team by giving them the latest information.
Always work on yourself
Slowly, we come to the point: don't lose yourself by giving too much to the team. You need to improve yourself first before having something to give. A good manager should always find a balance between self-improvement and good team building. You'll eventually become better at management, especially if you go for one of those management courses that are designed to hone your managing skills. After all, this is not something you can learn overnight. It does require some time.
A manager's job is full of responsibilities. You need to be able to work under pressure. However, working with people demands a level of calmness and stability. Give yourself a chance to charge your batteries; it will be easier to be nice to people if you find your inner peace.
Photo by Kevin Dooley. License: CC BY 2.0.