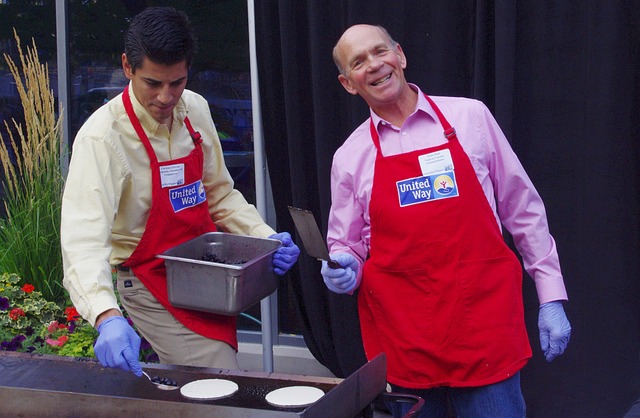 Everyone knows that taking a little extra time out of the week to volunteer at the nearby animal shelter, group home, hospital, or even with family members, can be one of the most satisfying and personally rewarding things. Less does everyone know, however, that it can also improve a person's daily working life, including attitude, motivation, and even overall productivity!
Regular volunteer work does more than positively affect individuals, though — it's thought to boost overall office morale when employees are doing the work together as a team. Whether during regular work hours or outside of them, it's said that when a group of people work together toward a common goal, they're more likely to work better together in the office. Because they've had the opportunity to apply a good team effort toward a common goal, the effects carry on into the next morning after clocking in.
There are so many more benefits to workplace volunteering too, including increased employee retention, and even a general well-being amongst the workers. Of course, that's not to mention the potential community improvements!
Employee Retention
VolunteerMatch.org states, "Volunteer programs can bring people together, give them purpose in their work, instill pride in your company, and increase their conviction that your company is doing something worthwhile in the world … " and later goes on to quote a survey by PWC that reports: "65% of people across various countries want to work for an organization with a strong social conscience."
How does a company instill a sense of strong social conscience in their employees, in an effort to not only keep them interested, but also to push for more engagement between workers, both inside and outside the office? Naturally, volunteering is an important step. Whether efforts are focused locally in a small town, or even strive for larger goals in organizing their own non-profit, employees who feel as if their company contributes positively to communities, and allows them opportunities to help out in doing so, are far more likely to stick around.
Trust is crucial in any business venture, and the bond between employees and your company can be measured, at least in part, by your employee retention. Failing to heed warnings that there may be trust issues in your workplace can lead to a whole host of negative consequences for your business, from behavioral issues from employees to more drastic ramifications such as having your business wiped out and your credit score ruined by an unscrupulous partner.
But activities like volunteering and other company culture initiatives are proven to help facilitate a level of trust between those you have a business relationship with!
Employee Well-Being
Volunteering and other methods of giving back to the community are known to boost a person's self esteem and confidence, as well as overall good mood. Because of this, office workers are more likely to bring that happier, more positive outlook into the office to share with their peers — assuming they didn't already volunteer side-by-side with them.
According to HealthyPlace.com, there are a number of reasons why giving back to the community is so beneficial to a person's self-esteem:
Inspires a sense of purpose
Opportunity for interpersonal interaction
Removes focus away from oneself
Helps with sense of belonging
Offers new skills and ways to gain experience
Offers a sense of achievement
For all of those benefits to be felt not only by the one person taking part in community volunteerism, but by the entire staff of a company, it's no question the kind of morale boost that will instantaneously be felt.
Community Involvement
There's more to be offered in helping the community than simply picking up trash on the highway or hosting a bake sale in the park. For example, as demonstrated by Ohio University, youth athletics are constantly being defunded and in an almost constant dire need of support. Because of the number of not only physical, but mental and educational benefits offered through youth and interscholastic sports, offering a chance for students to participate in them through donations or benefaction to raise awareness would certainly be an incredible blessing not just for the youth themselves, but also for their families.
Along with working to better the community, volunteering with the less fortunate is also known to help foster better socialization and communicative skills in people, which can be ideal for office workers, no matter their position on the floor. According to Ohio University, a number of unexpected benefits can come from getting out into the community, including:
Recognizing unjust social issues
Identifying new business opportunities
Inspiring change through participation
Taking initiative
Quelling fear of public speaking
Learning to fight adversity
Bolstering creativity
So whether you're a manager, an employee, or just in individual looking for chances to get out there for the greater good of the people around you, there are so many benefits to having a regular volunteering schedule. Not only are these opportunities personally rewarding, but knowing that you've worked hard to better the life, or lives, of the people around you as well — what else can compete?