4K TV: The Next Step In Ultra High-Definition TV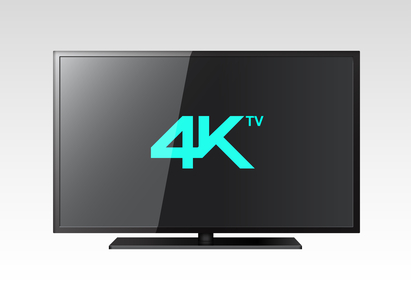 It's been a long time since anyone's fastened a wire coat hanger to a TV antenna in hopes of getting better reception. Now we watch pretty much whatever we want at any time we want, and the picture quality is so clear it's like looking out a window.
But TV manufacturers aren't finished making improvements. The latest innovation comes in the form of "4K" TVs—TVs with ultra high-definition displays. This is the clearest, sharpest way to watch TV yet.
What is a 4K Television?
A 4K television refers to the latest advances in clarity and picture quality. According to TechRadar, the resolution of the 4K television is 4096 X 2160, which is a significant improvement from any other televisions previously on the market. The resolution has increased the number of pixels that are found in every square inch of the screen, so it is not possible to see each individual pixel. TechRadar.com puts this clarity more akin to an 8-megapixel image than a 2-megapixel image. That means that each visual on the screen of the television is almost four times clearer than the past generation of televisions.
Sony and Seiki
The first companies to unveil the new 4K televisions are Sony and Seiki, Mashable reports. Even though the TVs are ready for market, the initial prices may be a concern.
Last fall, Sony rolled out an 84-inch 4K television that cost a whopping $25,000. Since then the electronics giant has unveiled a 4K TV with a 55-inch screen for $4,999 and one with a 65-inch screen for $6,999. Seiki's 4K television is more reasonable for families on a budget; its 50-inch 4K television goes for $1,500.
Challenges Ahead?
Although this new technology is exciting, you might want to wait for the movie industry to catch up. According to Variety.com, the changes to television will make the movie-going experience seem sub-par. Hopefully this will challenge the movie industry to work harder for new technology that improves on the current in-theater experience.
The challenges to the movie industry are not the only concern. Cable television does not yet have the technology to deliver shows in that level of definition. While companies like Netflix are working on developing 4K programming, it will take some time before 4K programming is widely available. According to DirectTVdeal.com, most movies are still broadcast in 1080 pixels.
Internet connectivity is another drawback of the television. According to Business Insider, viewing content over the Internet on the television can use up roughly 100 gigabytes, which is more than most high-speed connections are able to deliver. That might cause delays and other frustrations for impatient viewers.
New technology is always exciting, and 4K television may mean a change for how we view our at-home entertainment. Although it will take some time to address the challenges, the new 4K television seems here to stay.