What Does ADA Compliance Mean For Digital Business?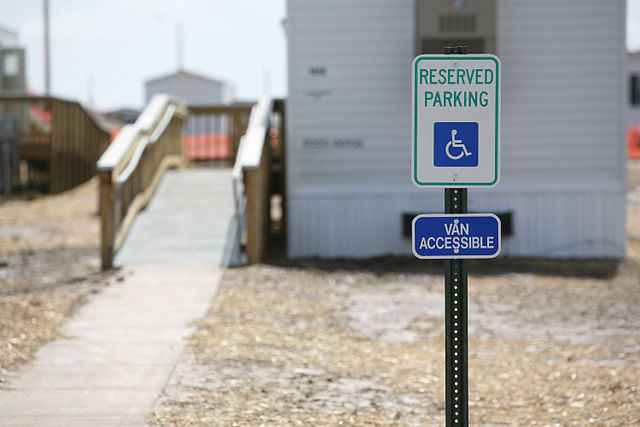 Does your business have to deal with regulatory compliance? If you don't already, you might soon have to.
Sometimes these regulations are set forth to protect third-party information, from credit card data to personal health information. With the rise of cybersecurity breaches across all industries, mentions of the Health Insurance Portability and Accountability Act (HIPAA) have risen, with Duquesne University indicating that HIPAA's "primary area of concern in 2017 has been data security."
Other times these regulations protect third parties from unfair treatment. Title IX, for example, which was signed into law in 1972, states that "no person in the United States shall, on the basis of sex, be excluded from participation in, be denied the benefits of, or be subjected to discrimination under any education program or activity receiving Federal financial assistance."
Perhaps the most common sign of compliance is a blue placard with a white stick-figure in a wheelchair. These are signs that our public buildings and businesses are compliant with the Americans with Disabilities Act of 1990 (or the ADA). According to ADATA.org, the ADA "guarantees equal opportunity for individuals with disabilities in public accommodations, employment, transportation, state and local government services, and telecommunications."
These measures of ADA compliance, as of January 2018, now extend to certain business websites. So how do you know if your website needs to be ADA compliant, and how do you fix it if it's not?
Section 508 of the Rehabilitation Act
The Rehabilitation Act was originally passed in 1973, but the first Section 508 amendment occurred in 1986 and required federal agencies provide electronic and information accessibility to people with disabilities. It was again amended in 1998, a full eight years after the passage of the original ADA, and most recently again in 2017. It will likely continue to be amended as technology advances in the future.
These latest revisions dictate that federal agencies and organizations that receive federal funding adopt the World Wide Web Consortium (W3C) Web Content Accessibility Guidelines (WCAG) 2.0 AA standards, beginning January 2018. The WCAG 2.0 has three levels of standards, notated "A," "AA," and "AAA," ranging from least amount to most level of accessibility and accommodation. While these standards are complex, and can all be found on the W3C website, the ones that small businesses and federal agencies must comply with — the WCAG 2.0 AA standards that make a website ADA Title III compliant — are essentially divided into four different principles. According Annette Sugden with BizIQ, these principles require that your website is perceivable, operable, understandable, and robust. Sugden breaks these principles down like this:
Perceivability
Perceivability refers to how your website is seen or heard. Elements of perceivability include:
Captions on multimedia content visual content
Text alternatives or transcripts for both visual and audio content
Content that is accessible and interperable by assistive technologies like text readers
Alt text attributes to describe multimedia elements like photos, charts, infographics, and other visual elements
High contrast ratios that make text visible to users with visual perception difficulties
Operability
Operability refers to accessibility of your website as well as navigability. Elements of operability include:
Making sure your content doesn't contain flashing or strobing elements known to cause seizures
Allowing enough time for all users to consume content, or allowing users to pause, fast/skip-forward, and rewind content
Allowing users to mute and pause auto-played content
Refraining from incorporating website functions that are only accessible using a mouse peripheral
Understandability
Understandability, understandably, refers how easily people can understand your website via logical organization and design. To make your website more understandable:
Avoid publishing confusing or unpredictable content
Use simple language in lieu of complex verbiage
Provide clear, concise instructions on pages that require users to input data
Also provide tools to help people avoid and/or correct that data if they accidentally input it wrong
Robustness
This part is a little more in-depth and might be best left to your developer to handle. This is because the website's code (HTML, JAVA, CSS, etc.) is what must actually be "robust," meaning that it needs to be compatible with many forms of assistive technology, including text readers and alternative input devices like motion or eye tracking software.
All of that said, if it turns out that you're not ADA compliant, you are in danger of a lawsuit — and just as important, it means that not all of your customers (or potential customers) have equal access to your business. Talk to a qualified web developer if this is the case. There are professionals that deal with small businesses website compliance all the time. It's your responsibility to mitigate liability and provide an equal opportunity experience. Don't run afoul of the law, and invest in compliance.
Note from the Author: I am not an attorney and this article does not constitute legal advice. For legal advice, please seek a qualified attorney.