How To Develop Confidence Speaking During A Budget Meeting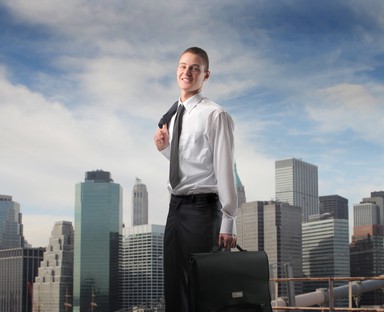 Presenting a budget to shareholders, investors and colleagues can be uncomfortable, especially if finances in the past were less than optimistic. But even the most negative of situations can be made positive when speaking with confidence in the boardroom. CEOs are experts at dealing with this pressure and delivering investor confidence when talking about company money.
In a TechCrunch article, Gregory Ferenstein argues that Yahoo CEO Marissa Mayer would be a great resource to U.S. Congress during the sequester debates in the House and Senate. The reasons vary from Mayer's tactics of turning around Yahoo to her past with Google, but the underlying theme is that she knows finance and how to speak to it professionally and effectively.
That CEO-like confidence isn't exclusive to the Fortune 500. There are some simple steps you can take to ensure you speak to your budget like a true believer.
A confident public speaker makes what they do look easy. There isn't some special secret to their success other than a little preparation, practice, and constantly looking for ways to improve their speaking abilities. So now it's time to get started.
Arm Yourself With Tools
What tools you need depend on your industry, but they will all revolve around some form of analytics. The best way to present a new budget is the ability to tell a story about the past. Companies like Liquid Holdings have risk at enterprise-level management to help predict future outcomes, but it's likely that even board members like Richard Schaeffer arm themselves with as many tools as possible before giving budget presentation to his colleagues.
Master Presentation Software
Now, that you have the numbers and the story you're going to tell, you'll likely use presentation software to give your group a visual aid. The most common mistake public speakers make in this case is reading words directly from each slide on a PowerPoint. The words that come out of your mouth shouldn't be reflected verbatim on the screen, at all. Both PowerPoint and Keynote have software to control slides and keep notes on your smartphone while the presentation runs behind you. According to the University of South Carolina, the simpler the presentation, the better. They lay out a few tips to keep everything clean.
Keep the template clean and minimal
Avoid font and transition effects (or, at the least, keep them to a minimum)
Only use high-quality images
Navigate your presentations in a non-linear fashion
Seek Out Feedback
We don't mean during the meeting. Asking for questions at the end of the presentation is a given, but too often people are reluctant to give feedback in a public setting or even privately unless you ask them for it. When the presentation is over, approach colleagues and ask them for both positive and negative feedback.
Would you like to receive similar articles by email?