Evolution of Perception Regarding Investments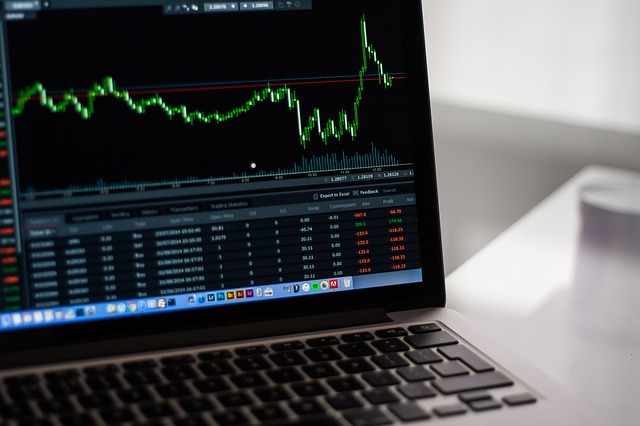 Two decades or so ago, the term investment was used very rarely in an average Indian household. Today, things are rapidly changing. Traditionally, Indians have been very risk averse. They've always been very careful while investing their money in ventures that do not guarantee returns and avoid taking any kind of risks with their hard-earned money. A surprising number of Indians brush off investments as a form of 'white-collar gambling'.
Indians are skeptical
This lack of awareness has created a block in the minds of Indians, making them hesitant to invest in any asset. This is especially true for the previous generation. Most Indians think mutual funds and stocks require a lot of money to invest in them, however, many banks, including HDFC mutual fund investments accept investments at a price as low as Rs. 500/- for its Systematic Investment Plan. There is also a dearth of proper financial setup and hedge funds to guide people.
Another very potential reason is the lack of funds among millennials. Most young Indians start earning right after their graduation, but don't earn enough to make it past the bare minimum, which makes it difficult to invest in stocks or mutual funds.
It's not a surprise that most of the millennials in their mid-thirties aren't comfortable with investments. Either they or their parents were hit hard first by the 2000 Market crash and then the 2008-09 financial crisis. The market dropped by almost 60% from its peak and the BSE index fell by over 1000 points, incurring huge losses in most of the personal finances.
Overall, investment is only now stepping out of its infancy in India, starting just about 25 years ago. It will take time for the masses to get accustomed to the idea of investment.

Charting the rupee during the 2008 financial crisis. Image source: MarketOracle.
How are things changing
Investments in nearly every form are slowly catching up. An increasing number of people are gradually realising that a single source of income is insufficient. Most millennials have high aspirations and goals, and to fulfill them they require money. The realisation that money sitting idle in the bank is money lost, is quickly dawning.
Indians banks have also streamlined the pathway to investment for most Indians, so much so that many Indian home-makers with regular internet access and a laptop have also put money in various investments and yielded successful returns. There are various online stockbrokers and banks which help for concerns regarding investments.
Things have evidently changed since the advent of this decade. Indians have invested more in stocks than in fixed deposits in the fiscal year-2017. Individual wealth in financial assets grew by 11%, and 39.2% of it was driven by Mutual Funds. Mutual funds have become a very popular investment option in India due to their simplicity and tax-efficiency. For a country where most people are overworked and then subsequently underpaid, a mutual fund investment seems to be a good deal. It is ideal for people who have time and knowledge constraint but wish to make the most out of their investment.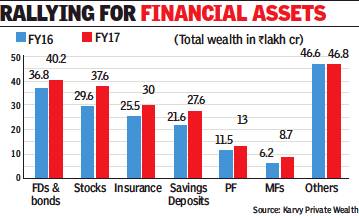 More people have invested in Stocks. Image Source: Karvy Private wealth.
There are also a wide range of other investment options one can choose, including fixed income schemes and money market schemes. There are equity mutual funds for people looking for high returns, this also involves high risks. For investors wanting a safer option, there are debt mutual funds. Mutual funds have also recorded a safer performance as opposed to the stock market and hence pertains well to the Indian audience.
The HDFC Mutual Fund is a very widely popular investment scheme amongst most Indians. Its Top 200 scheme (now called the HDFC Top 100) has outperformed the benchmark index and is one of the best performing funds.
This doesn't imply that Indians aren't buying individual stocks and are investing only in mutual funds. India has some ace investors, such as Rakesh Jhunjhunwala, the billionaire investor and chartered accountant by profession, and Raamdeo Agrawal, co-founder of Motilal Oswal Financial services, who have invested extremely successfully in the stock markets.
Both public and private sector banks are assisting the common man invest their money in a range of options – starting from direct equity and all the way to real-estate options. This has allowed Indians to break out of their shell of doubt on investments and their potential returns. Most banks even have a senior citizen saving scheme, to allow a savings option to citizens over 60 years old. Interest rates go up to 8.3% per annum.
Despite all the ups and the downs, India has come to be reckoned as a global economic power. Individuals have started educating themselves about their options around investing. They still rely more on physical assets – such as real estate and gold. However, they are slowly climbing the ladder and investing more money in financial assets as well.
Would you like to receive similar articles by email?