Marketing 101: What Your Business Card Says About Your Company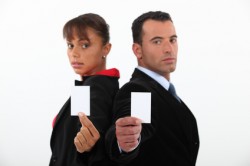 Some people will say that the need for a business card is going to the wayside thanks to the boom in online networking and social media. However, that is simply not the case. In fact, Business News Daily states that almost half of small business owners are actually handing out more business cards than they were five years ago. It has been proven that nothing can influence your business as well as in-person contact. And every business owner knows that you never leave a contact without a business card. But what exactly does your business card say about you?
It Summarizes Your Brand
There is no better branding tool than a well-made business card. According to the Business Insider, your business card is a snapshot of your company. It is a way for someone to get the entire picture of what your business encompasses in just a glance. For that reason, it is vital that you stay true to your brand when creating your business card. Avoid using a template unless it's a great fit for your branding, but even then you run the risk of other businesses having the same brand elements. Templates are made for one-size-fits-all companies, and you want to make your business stand out above the rest. After all, if your business card is memorable then your company will be memorable. Consider using alternative materials or creating an interactive card to make it stand out from the crowd. But always keep it traditional business card size so that it will fit in anyone's wallet.
It Can Make You Look Cheap
Since your business card is such an important branding tool, it is important that you do not go cheap on your materials or design. If your business card looks cheap, people will assume you are on a budget and that you may be cutting corners in other aspects of your business as well.
It Lets Clients Know You are Eco-Conscious
The materials you choose to create your business card also say a lot about your company. In business, small details can make a huge difference to certain segments of consumers and many consumers prefer giving their business to eco-friendly companies. There are a number of ways a card can be eco, but it mainly centers around the type of paper and ink used and the process of printing itself. Some vendors use recycled paper and utilize waterless printing techniques that protect the water supply and the ozone. Vegetable and soy based inks are very common as well.
It Demonstrates That You are Tech-Savvy
You can also use your business card to make customers aware that you know what is going on in the technology world. If your business has an online presence, you can include a QR code or list your social networking profiles. Before using a QR code, be sure that the site it goes to is optimized for smartphones. Otherwise you may end up frustrating your contact and killing the potential business relationship. If clients know that you are in on the latest trends, they will trust that you are using the newest technologies throughout your entire business.
How to Make the Perfect Card
When designing your business card, there are three things that you should keep in mind. First of all, your business card needs to contain an image to capture people's attention. The image should either be of you (if you're a sole proprietor or consultant) or a key element of your branding. Second, it should be simple. You need to have all of the relevant information for people to be able to contact you, but keep it at that. Too many words will only encourage someone to throw your business card right in the trash. Finally, every card should have blank space. It doesn't matter if it is on the front or back of the card, but you need to have somewhere to write a personal message to the person you are giving the card to. That way, your card will have more meaning to them, and your note can remind them what you two talked about. What other characteristics do you think a successful business card should have?