Marketing Solutions to Increase Enrollment & Promote Higher Education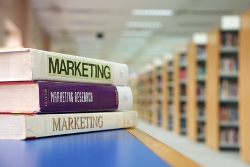 To attract and retain students, universities and online colleges adopt traditional marketing techniques that businesses use for branding and promotion. Higher education institutions can enhance their global recruitment efforts by mimicking the types of direct-mail marketing campaigns or social media practices that businesses execute. Like businesses, academic institutions, from universities to online colleges, strategize on how to reach target demographics.
Direct-Mail Marketing Campaigns
Think of reaching out to prospective students as if they were prospective customers to whom a business would want to sell products and services. The goal is the same: Communicate with your prospects. Send your message quickly and effectively. Make an impression. Motivate action.
The following tips help to execute a successful direct-mail marketing campaign:
Offer a gift or promotional items such as free university swag
Include testimonials and Q&As
Personalize content as much as possible and give special attention to headlines
Standardize address data with international address verification to ensure mail is properly sent, whether domestically and globally
Follow-up with sequential mailings and reference former direct mail letters
Track the response rates of recipients and leads
DotEduGuru.com emphasizes that e-newsletter, brochure, letter and catalogue content are most marketable when it elicits the following:
Motivates prospective students by highlighting recognized qualifications, any available part-time employment opportunities, degrees that help secure jobs and standout aspects that competitive academic institutions lack
Targets parents of students; parents help future students make decisions based on cost of tuition, living expenses, safety and values
Triggers action by providing information about easy enrollment, academic support and educational inspiration as well as reminding interested students to start making dreams a reality
Social Media & Blogging
Without an active and branded position in social media, your institution is basically off the map. Social media marketers at universities can manipulate the digital space on Facebook in a myriad of creative ways. Mashable.com spotlighted universities that have used Facebook to create virtual university tours, promote university swag and college pride, reach out to alumni and provide information about college departments. A Facebook page with a virtual tour is an effective marketing technique for long-distance students who are interested in enrolling. Students can tour buildings, dormitories, classrooms, athletic facilities and get an overall feel for the type of environment — all through technology. Colleges can also have fun with social media by documenting the life of a mascot, spotlighting students who make a difference and keeping in touch with alumni.
Twitter, the social networking website that provides the most real-time information, is a powerful Internet marketing tool that enhances an institution's presence in the digital landscape. Twitter creates discussions and encourages dialogue among educators, students, potential students and alumni.
Edudemic.com recommends the following ways to connect via Twitter:
Asking questions and welcoming feedback
Creating a chat on an academic topics and current news
Including relevant hashtags and participating in Follow Fridays
Sharing higher educational content, information and opinions across platforms
Would you like to receive similar articles by email?