Speech is Power: Promote Your Business With Public Speaking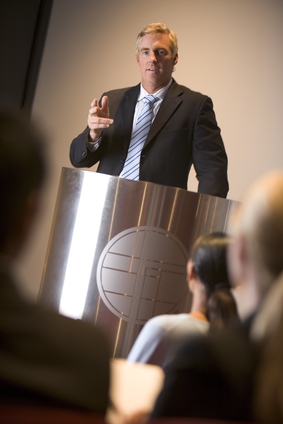 Looking for ways to expand your businesses visibility without spending lots of money? How about public speaking? Sure you'll still need to spend money on marketing and advertising but you should still take advantage of every opportunity to network and expand your business.
Any company—start-up or established, small or large—can benefit from good publicity. Speaking at industry conferences, on television news programs, in web videos or at local networking events gets your name out into the community and establishes you as an authority in your space. Take, for example, Mark Weinberger of Ernst & Young. He's an important guy at a big important company but he's still made time to make appearances on CNBC to weigh in on international tax issues. You can bet it's worthwhile for the company and it's good for him too. Not only is executive Weinberger establishing a rapport with the viewers, but also with the industry influencers who are following or weighing in on the trend at hand.
Another great example is Rand Fishkin of SEOMoz. By sharing insights into their industry with web videos like educational "Whiteboard Fridays" the team at SEOMoz is getting the attention of potential employees, potential customers and other potential business partners. By taking just a few hours out of the week, they have made a big impression.
Finding Opportunities
How can you make these principles work for your business? Start by finding relevant opportunities to share knowledge with others. A YouTube channel or series of web videos might not be the right choice for most businesses. You have to find an audience, produce the content and maintain the content library. In most cases, it's better to start small with live speaking opportunities.
Look for luncheons for local networking or social groups. Chambers of commerce, Kiwanis clubs, that sort of thing. Get to know the organizers and offer your services (or those of a willing employee). As you grow in confidence, branch out to participating in local and regional news stories. For example, if an election is coming up and your employees can shed some light on the issues at hand— especially accounting or tax firms— you can offer to be part of an expert panel.
Once you've really gained some traction, start looking into industry conferences at the local, national or international level. You'll have to liaise with organizers during the planning stages, but a stage that big is worth a wait.
Honing Your Skills
There are opinions aplenty on how to be a good presenter. The essence of all of them (at least the valid ones) is to be confident, compelling and mindful of your audience. If you're uncomfortable in front of an audience at first, try joining a group like Toastmasters or taking an improv comedy class. The more experience you have in front of an audience, the more confident you'll grow. Just remember to keep your content relevant and engaging and be sure you know your topic inside and out before you hit the stage.
Would you like to receive similar articles by email?